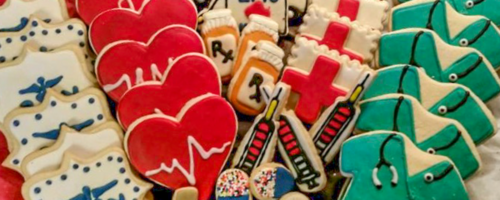 Themed Cookies
LET US BRING YOUR COOKIE DREAMS TO LIFE
Known as a premier decorated cookie business, our bakery delights bring each customer's wishes to life.
We create Themed Cookies cookies for birthdays, weddings, holidays, or corporate events.

To order themed cookies simply fill out the "Custom Order Form"
giving us a description of the theme you have in mind,
how many dozen you are requesting and all the options.
You may also upload a photo if you have one.
We will then return a quote for approval and deposit.
Themed cookies require a 2-3 week advance order minimum from the date you need them.
( This can change depending on our order log and seasonal times of year )
The price of custom decorated cookies depends not only on the size of the cookies but also on the amount of hand decorated details the cookie requires. Prices typically range from $2 – $10 each.
Mini's $2.00
Small 2 – 3 inches $3.00
Medium 3-4 inches $4.00
Large $5.00 – $10.00
Full payment is required to schedule the date for your cookies unless other arrangements have been made in advance. The calendar fills up first come, first payment, first served.
We can sometimes fit in a Rush Order, there is an extra $15.00 charge for Rush Orders.

Cookies can only be picked up at The Tucker Inn located at 3095 FM2648, Powderly, TX 75473.